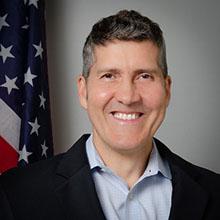 DENVER - The Governor's Office of Information Technology (OIT) announced today that Ray Yepes will serve as the State of Colorado's next Chief Information Security Officer (CISO). After a nationwide search, Yepes rose to the top of an impressive candidate pool due to his rich background working in private industry and serving for five years as CISO for the Texas Department of Family and Protective Services, a 15,000-employee agency in the Lone Star State. 
"Ray has such an impressive depth of experience as a cybersecurity professional and executive, said OIT Executive Director and Chief Information Officer Anthony (Tony) Neal-Graves, "His ability to influence a sustainable security culture, foster change and develop people and relationships will enhance the protection of our state's IT systems and data."
Prior to his public sector leadership with the State of Texas, Yepes co-founded and was the director of ATX Forensics LLC, a full-service cybersecurity company whose clients include numerous Fortune 500 companies. He has also served as the CISO for Fortune 200 company Waste Management, Inc. and was the Vice President of Professional Services at CyberEvidence, Inc.
"I'm grateful for the opportunity to lead the state's security strategy and build upon Colorado's mature and well-developed security program," Yepes explained. "I look forward to embracing the Colorado lifestyle while doing what I love most: building a strong security culture and serving agency partners and residents by protecting the state's technology infrastructure." 
Yepes holds a Master of Science in criminal justice and a Bachelor of Science in computer science from Sam Houston State University, as well as associate of science and associate of arts degrees from North Harris Montgomery Community College. He also holds a myriad of certifications including InfoSec's Evaluation Methodology (IEM) and Assessment Methodology (IAM), EnCase Certified Examiner (EnCE) and Certified Information Systems Security Professional (CISSP), among others.
Yepes will begin his new role as State CISO on April 25. Until that time, OIT Chief Customer Officer William Chumley will continue to serve as the interim CISO.