Ready for wherever the work takes us
We work collaboratively with our agency customers in 69 state offices and countless remote locations throughout Colorado. We work normal business hours, after hours, weekends and holidays in support of our agency partners and Colorado residents—whatever it takes to keep the state's technology running smoothly.
Our organization is made up of:
Executive Director's Office

Communications Office
Human Resources Office
Enterprise Project Management Office
Strategy, Performance & Administration Office

Customer Office
Revenue Office

Financial Services Office
Service Management Office

Technology Office
Information Security Office
Colorado Broadband Office
Colorado Digital Service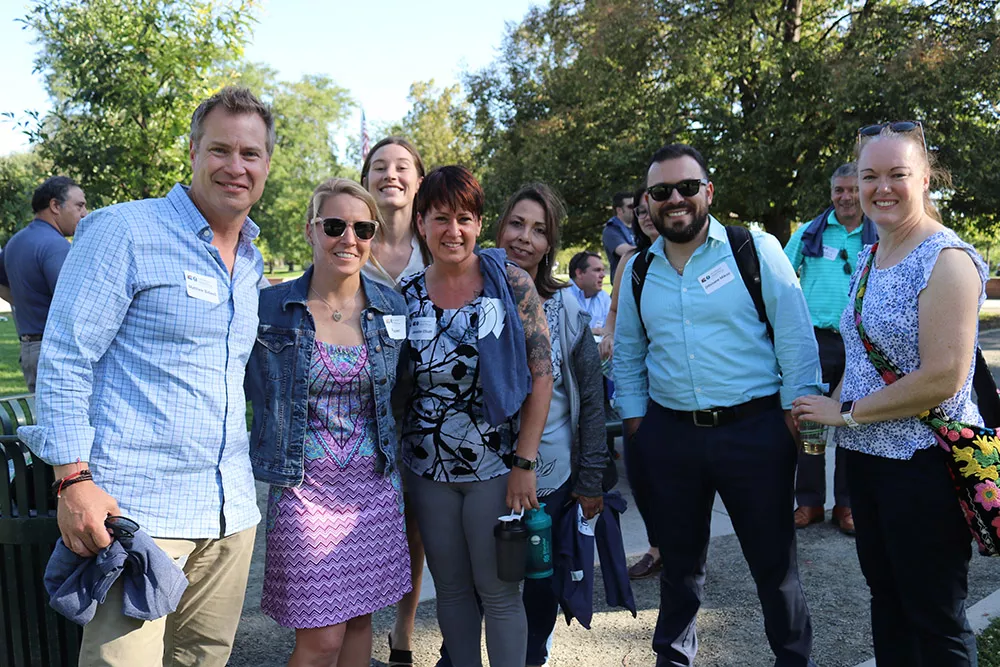 Executive Director's Office
Within the Executive Director's Office resides the Chief Information Officer & Executive Director, Deputy Executive Director and offices that oversee strategic direction and operations support to teams across OIT so they may innovate and deliver IT services to customers and Coloradans. The Executive Director's Office includes:
Communications Office
The Communications Office is a collaborative and energetic group that provides a full range of internal and external marketing communications (marcom) strategies to tell OIT's story and support our people, programs, projects, products and services. This dynamic team plans and executes marcom initiatives to educate and engage a diverse stakeholder group to elevate trust and satisfaction. The Office consists of staff uniquely experienced in customer and employee communication, marcom, branding, creative services and media relations.
Contact: OIT_CommunicationsTeam@state.co.us
Human Resources Office
Human Resources works across OIT's workforce to facilitate our Equity, Diversity and Inclusion (EDI) efforts to ensure all employees have a voice and are heard. We partner with leaders on organizational design to match business needs and attract and retain talent who advance our mission and Values. Together with employees and leaders at all levels, we foster a culture that inspires the best efforts of employees and prioritizes development and learning for all. We strive to build engagement through teamwork and prioritizing a balance of professional and personal life so employees take pride in delivering critical services valued by all Coloradans.
Contact: oit_jobs@state.co.us
Enterprise Project Management Office
The Enterprise Project Management Office operates at a strategic level in collaboration with the Executive Staff as a centralized office to provide organization-wide guidance, governance, standardized processes, portfolio, program and project management best practices, tools and techniques.
Strategy, Performance & Administration Office
Strategy, Performance & Administration builds capacity across OIT to ensure our performance is monitored and improved in order to exceed customer and employee expectations. Through strong collaboration with the Deputy Executive Director, Executive Staff, OIT functional units and employees, our partners and stakeholders, we facilitate continuous improvement by managing our products and services; coordinating agency-wide strategic planning, process improvement and performance management; leading all legislative efforts; providing office management and administrative support to OIT Executive Staff; and running the Technology Accessibility Program (TAP).
The Customer Office is where OIT technology services and the business needs of agencies meet. We are the front door, with IT Directors focusing on business relationship management as our customers' strategic partners. We also collaborate closely with the Service Management Office (SMO) throughout the entire service lifecycle; from working to develop a detailed Service Catalog to billing. 
Customer Delivery & Engagement
IT Directors, Program Directors, Program Specialists, Solutions Engineers, Business Analysts and User Experience Designers
The Solutions Engineers, Business Analysts and User Experience Designers help continuously improve OIT's technology services. By working side-by-side with agency partners, we are able to develop effective business solutions to better meet our customers' needs.

Customer Care
IT Change Management & Governance, IT Service Management (Process & Analytics) and Service Desk
Our Service Desk provides technical support to state employees and county customers via telephone, email or customer portal. We strive for first-call resolution and customer satisfaction through consistent and repeatable processes.
Resources
Financial Services Office
Focused on integrity, strategic support, timely processing and financial reporting, Financial Services supports OIT's efforts to securely enable effective, efficient and elegant delivery of government services through technology and trusted partnerships with agency customers in order to better serve Coloradans. In addition to managing the acquisition of goods and vendor services for OIT, Financial Services is statutorily responsible for purchasing, contracting and managing vendor performance and contract compliance of information technology for Colorado's executive branch agencies.
Service Management Office
We serve as the "front office" of OIT, designing, packaging and managing the lifecycle of our services, as well as developing and managing the processes of how we deliver services, with a focus on making it easy to do business with us. Service Management also is responsible for forecasting demand and ensuring the services we offer are financially sustainable.
The Technology Office (CTO) ensures a strong infrastructure, which includes our data centers, cloud migration and operations, state network, database services, and more. They also manage the Public Safety Communications Network, which allows direct communications between state, local, federal, and tribal agencies across the state.
Nearly 120 deskside support services personnel are co-located with agency customers to provision devices and troubleshoot and resolve problems. The CTO helps consult, design, build and support the applications our agency customers rely on to serve the public or their employees. Data and GIS teams provide the enterprise strategy and work to promote the sharing and accessibility of state public data. OIT's enterprise architecture team is tasked with defining statewide technology standards, including accessibility. The CTO is also home to our digital transformation team, which works to incubate new technologies that can deliver an attractive ROI and move government services to be virtually accessible anywhere, anytime.
Resources
Information Security Office
Information Security Office
Created by statute, the Information Security Office (ISO) protects, defends and deflects the State of Colorado from cybersecurity risks. To ensure a secure Colorado and help safeguard state systems and the data entrusted to us, this team develops statewide information security policies, standards and guidelines, and directs security audits and assessments in state agencies. The ISO also provides information awareness and training programs to help state employees understand their role in securing state assets. This team is also responsible for the provisioning and management of identity accounts and groups throughout the agencies to ensure that only authorized users have access to state systems.
Contact
We're here to help with network security vulnerabilities and threats in Colorado. State employees can submit a ticket regarding any security concerns and Colorado residents can contact us at infosec@state.co.us.
Resources
Colorado Broadband Office
The Colorado Broadband Office leads a statewide effort to expand broadband coverage and quality for all Coloradans. Access to affordable and reliable broadband service is critical to advancing Colorado's economic growth and competitiveness. High-speed broadband can create new jobs and attract new industries, expand markets for new and existing businesses, enable better access educational opportunities and resources, facilitate the delivery of healthcare services, and support public safety. Broader deployment of broadband infrastructure and services will improve the quality of life for Coloradans and support the state's global economic competitiveness.
Contact: oit_broadband@state.co.us
Newsletter: Sign up for Broadband email updates
Resources
Formed in 2019, Colorado Digital Service (CDS) is a diverse, cross-functional team of senior engineers, human-centered design specialists, product managers and procurement and contracting specialists within OIT. Our mission is to help to mature state agencies' approach to delivering high quality products and services to all of Colorado by focusing on people, process and technology. 
We practice modern software delivery practices, including human-centered design, agile iterative development, DevSecOps and modular active procurement and contract management. We believe these methods allow us to focus on outcomes over optics and orient on finding answers to problems rather than jumping to solutions.